A prestigious location
Since 2015, we manage Auditorium del Massimo in Global Service. A prestigious location for events, located in the EUR district of Rome. An important challenge studded with great responsibilities but also with enormous satisfactions.
Easily accessible from anywhere in the city thanks to its proximity to the main transport networks. In a total area of ​​3,000 square meters, it has spacious conference rooms, meeting rooms, workshop rooms, exhibition areas, ample parking. It offers a complete range of services: control rooms, preparation of videoconferences, closed circuit TV system, simultaneous translation booths, dressing rooms, exhibition spaces, offices, press rooms.
 A snapshot from Tour Music Fest 2019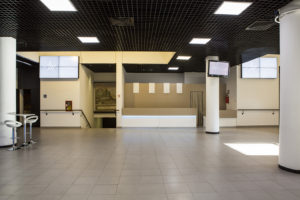 Organizing Secretariat and Direction of the event
Audio – Video – Lights Service

Translators and Interpreters
Communication strategy development

 Audio – Video Recording, Direct Streaming
Graphic design and realization and coordinated image
 Hospitality and Transport
Progettazione e Realizzazione stand e allestimenti

 Social Media and Communication
Book your event at Auditorium del Massimo!